I love the happy , carefree feeling when Aftermath performs !!   It's like being a kid again back in the 60's and 70's.
Aftermath put on a great outdoor concert this summer at the Events Center in Weirton, WV.  The large crowd really enjoyed the sixties energy.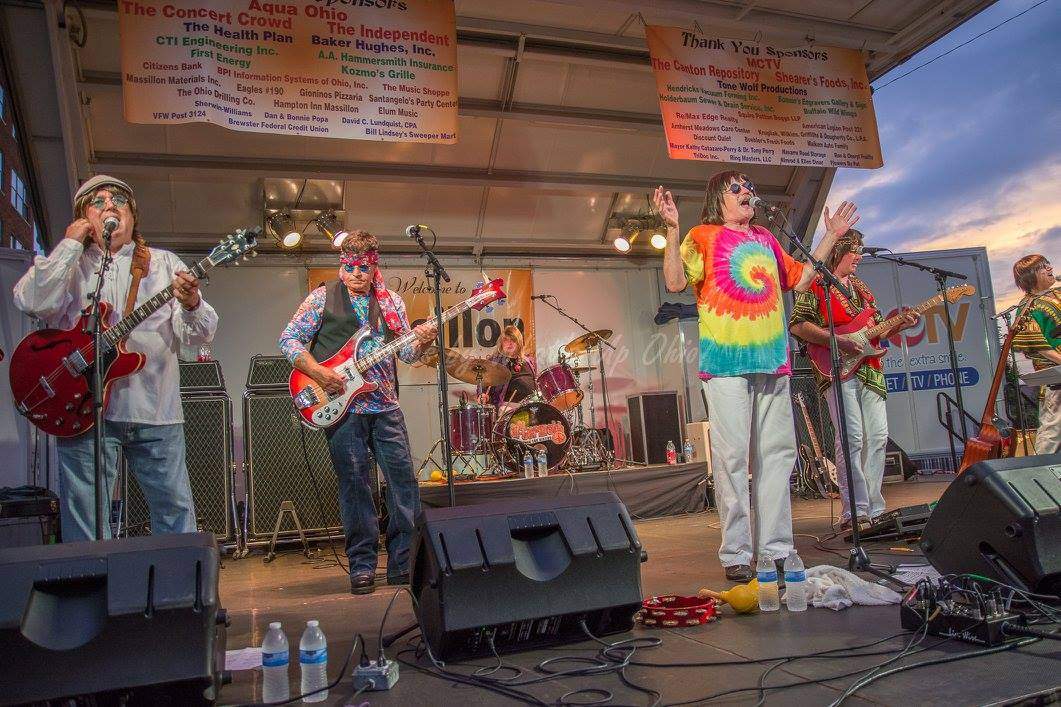 Rockin' and Jammin' Sixties Music - A Band Called Aftermath
The band Aftermath had the crowd singing, clapping and dancing to authentic sounding sixties music. It's refreshing to listen to a band that knows how to do music right!
Aftermath Experience the Sixties performed at the 2019 Pro Football Hall of Fame Enshrinement Festival Balloon Classic on Friday, July 26. They brought the energy and excitement to the crowd! They were so professional and Kim Pizzino was great to work with to finalize all event day details. The band is very family friendly and can be enjoyed by all! They truly transported you back to the sixties!
 I would recommend Aftermath Experience the Sixties for your next festival, fundraiser, or event! Thank you to Kim and the band for putting on an amazing show!
"Aftermath has always delivered the hits for our crowds. Great versatility, musicianship and showmanship. Do your event a favor: Book 'em, Dano!"
"Aftermath, the Music of the 60's.  This talented group plays 60's hits from many different groups, perfectly!  Our audience loved them!…..  Guy C. Myers Memorial Bandshell, Ashland, Ohio"
Doylestown Summer Concert Series
We truly love having the musical experience of Aftermath for a perfect concert evening.
Great memories for some and new memories for others! This band fills a much needed niche in the music business – just pure fun and enjoyment Looking forward to your return to Doylestown again! 5 STARS!!!!!
As the Coordinator of the Fountain Park Summer Music Series in Van Wert, Ohio, I am pleased to write this letter of reference for the band, Aftermath: Experience the Sixties.  We had the band on our series this past year and our crowd of nearly two thousand really enjoyed their performance.  Not only do they play and sound authentic to the great songs of the 60's, but they also have the look.  Theirs is not just a concert, but a 60's event to experience!
As a presenter, I am also happy to say they are genuine gentlemen to work with.  They make you as a presenter happy you booked them, not only because your audience really gets into their performance, but also because they make it so easy to produce and present them.  
Following the show, they are happy to meet the audience and have pictures taken.  The audience really dug their show, charisma and authentic 60's duds.  I really dug their professionalism and pleasant demeanor.
If you are looking to present a good time for your people, I would sincerely suggest you consider Aftermath: Experience the Sixties!
"I want to say a great big THANK YOU to this wonderful band Aftermath! We had a great event and the majority of the reason was because of the music and fun you brought!  Everyone enjoyed being taken back in time!  The music was very authentic, let alone the costumes!  You guys did such an amazing job!  Thank you again!"
Aftermath performed at our annual Food Festival & Fireworks event held in July. The band was very professional and more importantly, on time. It is crucial for our entertainers to adhere to our time schedule. Aside from Aftermath being very professional, they also brought a high level of talent and creativity to this event. This group highlighted their musical abilities and played to our widely diverse attendees.
It's my absolute pleasure to recommend the band Aftermath – Experience the Sixty's.
I thoroughly enjoyed my time working with Kim Pizzino and the band, and came to know them when the Venango Area Chamber of Commerce, hired them to perform at the annual Oil Heritage Festival in Oil City, PA.
Each time they have performed for us, they have transported us all too different time and place. One filled with great music! Their colorful, period costumes add to this wonderful journey back to the 60's.
Without a doubt, I confidently recommend Aftermath to perform for any occasion. Along with their undeniable talent, Aftermath has been an absolute joy to work with.
These guys ROCK!!!
What more can I say. With the throw back costumes playing some British Invasion, or some 60's/70's hippy Tie-dye music. As they played a crowd gathered to get a better view of this surreal throwback performance on stage. First the singing along then the dancing, this is before our main act!!! After the grand finally of fireworks, Aftermath took the stage once again and to our surprise not only did the crowd stay, but it was a rock fest!
This is a must have band for your special event! What a "Groovy" blast!
Thank you to Aftermath for providing the very best of music from the 1960's at our Thursday Night Summer Concert Series. The combination of great weather, an enthusiastic crowd and the sounds of the 60's was fantastic. A perfect evening was enjoyed by everyone. Thanks again for sharing your music tribute with the residents and guests of the City of Massillon and the surrounding areas. Looking forward to next year and counting on hearing the music of Aftermath.
Aftermath is one of the best to work with, everyone is professional but down to earth and I would definitely recommend anyone interested in having them perform for their event jump at the chance and don't let them get away!
From the beginning the entire experience was professional. The band fully understands who the customer is.
The band was easy to work with and wanted to make sure we were happy; which is a rare occurrence in working with entertainers.
Crowds by the hundreds gathered around for the performance. I would recommend any organization  wanting high level entertainment to look at Aftermath.
Aftermath kicked off the concert season in grand fashion with their high energy and crowd pleasing musical talents. We would recommend Aftermath to anyone looking to round out their concert schedule.
Aftermath is a favorite, and our members have made special requests for future performances.
Many patrons told us that Aftermath must be the first band invited back next year and we agreed. Their broad selection of music, deep talent pool, elaborate 60's costumes and their knowledge of what entertains crowds are worth every penny we pay to have them perform in Mason.
It was a joy to work with professionals who provided high quality entertainment and offered a great repertoire of music. We look forward to working with them again in the future.
I would highly recommend Aftermath for concert series, festivals, or parties and know you will totally enjoy this amazing group and their outstanding talents.